Author: Dr. J. Pieter Hommen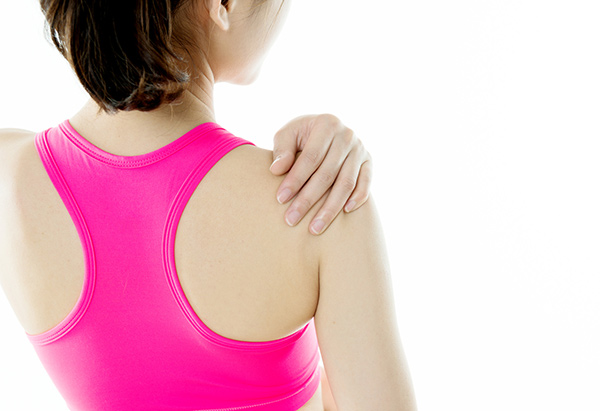 Questions:
1. Has your rotator cuff tear been described as "large", "massive", "retracted" or "irreparable"?
2. Has it been many months since you tore your rotator cuff?
3. Have you been recommended a tendon transfer or a reverse total shoulder replacement?
4. Have you already undergone a prior rotator cuff tear repair that subsequently failed and re-tore?
Answer:
You may still be a candidate for an arthroscopic shoulder rotator cuff surgery despite answering "yes" to any of the above.
There are two big problems that happen with large rotator cuff tendon tears:
1. Too large to repair - A large and chronically retracted rotator cuff tear may indeed be difficult, if not impossible, to repair directly back to bone. Even if repaired, there is no guarantee that it will remain attached to the bone.
2. Muscle will atrophy and turn into fat - When the tendon does pull away from the bone, the muscle belly no longer does its work, causing the muscle to waste away and turn into fat. This process of fat atrophy can take weeks to months to occur and is not reversible. Once a significant amount of atrophy has occurred, repairing the rotator cuff will not lead to a successful outcome.
Other than shoulder replacement surgery or tendon transfers, what options are there for a "massive", "irreparable" tear or one that has failed a prior surgical repair?
Allograft, or donated tissue - Can be used to repair the tear and restore function. After the grafts are harvested, they are processed to remove remaining cellular contents and are therefore very bio-compatible with no graft rejection.
Why use Allograft?
1. Provides structural support to the repair – like sewing a patch onto your jeans.
2. Provides a sponge-like matrix – much like a building's structural core of I-beams and columns. The graft serves as a foundation onto which your body can grow its matrix of blood vessels and collagen and form a new tendon.
Generally speaking, there are 3 types of surgical allograft procedures.
1. Augmentation
2. Inter-positional grafting
3. Superior capsule reconstruction
Augmentation:
This procedure has several indications and may be performed for a massive and retracted tear, a partial tear, as well as for severe tendonitis – such as calcific tendonitis. The rotator cuff is first directly repaired to bone like a standard rotator cuff tear repair, or in the case of calcific deposit tendonitis, the calcium is removed from the tendon and the defect is closed with suture repair. The allograft patch is then sewn over-top of the repaired tendon to strengthen the repair and thicken the tendon. The criteria for this procedure is a healthy rotator cuff muscle belly that should still be able to contract and pull on the repaired tendon. Patch augmented repairs for tendonitis, partial tears, large tears, and massive tendon tears have shown highly encouraging results in clinical studies.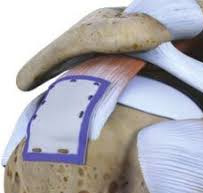 Inter-positional grafting:
This procedure is reserved for patients with a massive and retracted rotator cuff tear that cannot be directly repaired to the bone. The allograft patch is sewn between the end of the retracted tendon and the humerus bone attachment site, thereby bridging the gap – similar to a bridge connecting an island to the mainland. In order for this to be successful, the muscle belly must be healthy so that it can still contract. Several clinical studies have shown favorable results, especially in younger patients without long-standing chronic tears.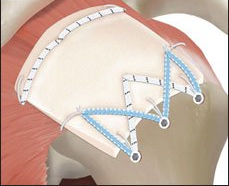 Superior capsule reconstruction:
This procedure is for patients who do not meet the criteria for the above procedures. They present with long-standing, chronically retracted rotator cuff tears with an atrophied rotator cuff muscle belly that does not contract anymore. Without the rotator cuff present, the humeral head starts to protrude upwards through the tear causing the humerus to touch and abrade against the acromion bone above it. Over time, this can lead to eventual shoulder osteoarthritis. If the patient is over the age of 70, he or she may be recommended to undergo a reverse total shoulder replacement surgery. However, for younger patients, or active older patients who do no wish to undergo a shoulder replacement surgery or a complex tendon transfer, new research has shown promising results with superior capsule reconstruction surgery. An allograft patch is sewn between the humerus and the shoulder socket (glenoid) preventing the humerus from sliding upwards – much like placing a trampoline above the humeral head to prevent it from sliding upwards with shoulder motion.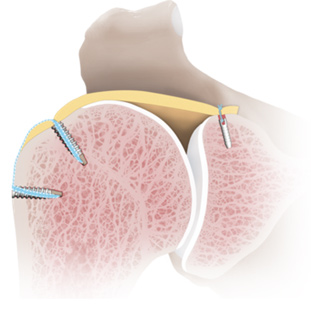 To see if you are a candidate for rotator cuff tear surgery, Request an Appointment Online or call 305-520-5625.
About The Author:
J. Pieter Hommen, MD

Dr. Hommen is board certified and fellowship trained in sports medicine and advanced arthroscopy of the shoulder, elbow, hip, knee, and ankle. He specializes in injuries and arthritis of the shoulder and knee and non-arthritic injuries of the hip. Through social media, Dr. Hommen's goal is to provide accurate reviews of peer-reviewed and evidence-based medical data to improve your understanding of what can often be complex medical topics. This allows you to better share in the medical decision-making process as a more educated patient.