Dr. J. Pieter Hommen
Orthopedic Surgeon & Sports Medicine
Dr. J. Pieter Hommen is board certified and fellowship-trained in sports medicine and advanced arthroscopy of the shoulder, hip, elbow, knee and ankle. He specializes in injuries and arthritis of the shoulder, hip and knee with particular interests in joint preservation of cartilage and biomechanics.
Interests
Dr. Hommen's interests include arthroscopic surgery of the shoulder, elbow, hip, and knee. Dr. Hommen is a faculty instructor of arthroscopic surgery to orthopedic surgical residents in training as well as an Associate Master Arthroscopy Instructor at the Orthopedic Learning Center in Rosemont, Chicago for the Arthroscopy Association of North America (AANA). His shoulder interests include arthroscopic labrum repairs, rotator cuff repairs, SLAP repairs, shoulder instability repairs, inter-positional and augmented graft repairs for massive rotator cuff repairs and cartilage restoration procedures. In the field of hip arthroscopy, Dr. Hommen specializes in: femoroacetabular impingement procedures including CAM and PINCER impingement resection, labrum repair, labrum reconstruction, iliotibial band and iliopsoas tendon release, trochanteric bursectomy, gluteus tendon repair, hamstring repair, piriformis tendon release, sciatic nerve compression release at the hip, and cartilage restoration. His interests in knee arthroscopic surgery include includes meniscus repairs, cartilage restorative procedures, autologous chondrocyte implantations, matrix induced autologous chondrocyte implantation, meniscus transplantations, anterior cruciate ligament and posterior cruciate ligament reconstructions. Dr. Hommen performs elbow surgery including ulnar collateral ligament reconstruction ("Tommy John" surgery), repairs of avulsed triceps and biceps tendons, as well as arthroscopy to address chondral loose bodies, cartilage injuries, impingement, and tennis elbow release.
Training
Fellowship - Sports Medicine and Arthroscopy

Southern California Orthopedic Institute - Los Angeles, California

Orthopedic Residency

New York University - The Hospital for Joint Diseases - New York, New York

Medical School

Cornell University - Weill Cornell Medical College - New York, New York

University

Cornell University - College of Arts and Sciences – Ithaca, New York
Board Certifications
American Board of Orthopedic Surgery

Fellow of the American Academy of Orthopedic Surgery (FAAOS)
Society Membership
Alpha Omega Alpha Medical Honor Society

American Orthopedic Society for Sports Medicine

Arthroscopy Association of North America

American Academy of Orthopedic Surgery

Cornell University Alumni Association

Dade County Medical Society

Florida Orthopedic Society

Florida Medical Association

Miami Orthopedic Society
University Affiliations
Florida International University Clinical Assistant Professor - October 2011 to present
Dr. Hommen previously served as a voluntary instructor in Biomedical Engineering Department where his students won the Biomedical Engineering First Place Award for design of an arthroscopic rotator cuff repair suture device.
Orthopedic Surgery Instructor
Associate Master Hip Arthroscopy Instructor
Orthopedic Learning Center in Rosemont, Chicago
Arthroscopy Association of North America (AANA)
Team Physician
Professional Team Physician

Fort Lauderdale Strikers 2011-2015
Miami FC Soccer Team 2006-2010
New York Mets 2003-2004

College Team Physician

Florida Memorial University 2012 - 2015

High School Team Physician

Doral Academy Charter School - Current
Riviera Schools - Current
St. Brendan High School - Current
Florida Christian School - Current
Athletes
Throughout Dr. Hommen's training during clinical practice, he has treated many amateur, semi-pro, and professional athletes as well as actors, dancers and performers.
MLB

NHL

NBA

NFL

NCAAF

NCAAB

US Sailing

WBC heavyweight boxing

UFC mixed martial arts

MLS, USL and NASL soccer

Triathlon

Marathon

Swimming

Cirque de Soleil

Alvin Ailey Dance Theater
Continuing Education Lecture Series for Physical/Occupational Therapists and Athletic trainers.
Dr. Hommen has hosted a continuing education lecture series for over 6 years. The course offers an in-depth review of musculoskeletal topics.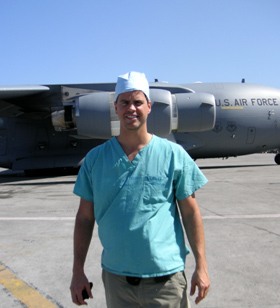 Surgery Locations
Baptist Hospital
8900 N. Kendall Drive
Miami, FL 33176
Mercy Hospital
3663 S. Miami Avenue
Miami, FL 33133
Miami Surgical Center
7600 SW 87th Avenue
Suite 200
Miami, FL 33173
(305) 595-5140