Hip Arthroscopy
Introduction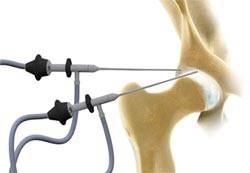 The information provided in this website is aimed to provide a general overview of hip arthroscopy. By no means does the information presented here offer a fully comprehensive review of the topics. Any questions should be discussed with your surgeon. There are significant variations of hip arthroscopy techniques from surgeon to surgeon.
Overview
Arthroscopy is an orthopedic surgical procedure whereby the surgeon can evaluate and treat the hip joint. Arthroscopy is performed with the use of a camera and minimally invasive instruments. The first documented arthroscopy dates back to nearly a century ago during the 1910's when it was used as a diagnostic tool to evaluate the joint. Over the decades, the arthroscopy become useful in the treatment of joint pathology such as labrum tears in the hip joint. Currently, arthroscopy is a mainstay procedure for shoulder, elbow, wrist, hip, knee, ankle and foot disorders.
What are the Benefits of Arthroscopic Surgery
There are several benefits of arthroscopic surgery. The arthroscope, or camera, is inserted through small 1-2 cm incisions, or portals, that split the muscle fibers. When the camera is removed, the muscle fibers return to their normal position and alignment. The potential benefit over open hip surgery is 1) less surgical injury, 2) less surgical pain, 3) faster recovery time, 4) better visualization of the injured structures and therefore more anatomically correct repairs, and 5) patients can often go home within a few hours after the procedure. All of these lead to improved overall outcomes and satisfaction for the patients as well.
Indications for Hip Arthroscopy
Hip arthroscopy is one of the fastest growing fields in orthopedics and sports medicine. New techniques and surgical indications are being fostered every year. Some of the most common reasons for performing this procedure are as follows:
To explore unexplained hip pain (diagnostic arthroscopy)
Removal of loose or foreign bodies
Repair of damaged articular cartilage
Removal of synovitis or joint inflammation
Torn acetabulum labrum repair or removal
Correction of Femoroacetabular Impingement (or FAI)
Management of joint infection
Iliopsoas tendonitis or impingement
Trochanteric bursitis
Repair of the gluteus tendons (medius and minimus)
Snapping hip syndrome (iliopsoas and iliotibial band impingement)
Painful Total Hip Replacement
Hip instability
Hamstring repairs and debridements
Piriformis syndrome release
What Questions Should I ask My Surgeon?
Is this a pain I can live with, or am I going to harm myself further if I don't get it fixed?
Is the procedure necessary, or is it advisable?
Are there other alternatives to surgery?
How much will it improve me - a little or a lot? Ask for a percentage.
Can it wait, what will happen if I do wait?
What is the recovery time?
How long will I be off work? How long will I be off sports and leisure activities?
How much physical therapy will I need afterwards?
Are there regional variations in techniques?
How often is this procedure done?
Why should I choose this surgeon?
How many procedures does he/she do per year?
What are his/her results? Does he/she know, and how?
What are the potential complications? How common are they?
Information on Hip Arthroscopy from American Academy of Orthopedic Surgeons.