Author: Dr. J. Pieter Hommen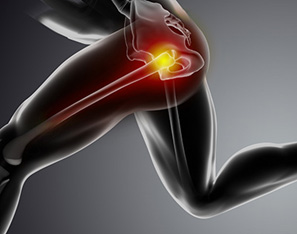 What are the Gluteus Tendons?
What is a Gluteus Tendon Tear?
What are the Symptoms of a Gluteus Tendon Tear?
How can a Gluteus Tendon Tear be Diagnosed?
How to Treat Gluteus Tendon Tears Without Surgery?
How can a Gluteus Tendon Tear be Repaired?
Can a Massive or Chronically Retracted Gluteus Tendon be Reconstructed?
What are the Gluteus Tendons?
There are two gluteus tendons that both attach at the outer aspect of the hip at the greater trochanter: the gluteus minimus and medius tendons. Both of these muscles abduct the hip, while the gluteus minimus also acts as the primary internal rotator of the hip. These important hip muscles allow for normal stance, walking and running. When normal, the gluteus tendons are highly organized collagen structures that transmit the force from the muscle to the femur bone.
What is a Gluteus Tendon Tear?
Most often found in people over the age of 40, a tear of the gluteus tendons may happen from a fall or repetitive injury to the tendon. A partial, or incomplete, tear of the tendon means that the tendon remains largely attached to the bone. This allows the muscles to continue to pull the on the bone and perform their function. A complete tear of either one or both tendons means that the tendon is no longer attached to the greater trochanter and therefore the muscle can no longer continue its normal function. There are people who have gluteus tears that are not symptomatic and are therefore a normal tendon aging process. Differentiating a painful gluteus tendon tear from other causes of hip pains such as a labrum tear, arthritis or femoroacetabulum impingement (FAI) is therefore very important and is best done by a hip surgeon specializing in these pathologies.
What are the Symptoms of a Gluteus Tendon Tear?
Pain from a gluteus tendon tear can present as pain that is usually localized to the outer, or lateral side of the hip. Often, the pain can be reproduced by pushing on the outer side of the hip or at night time when laying on that hip. Pain can occur with walking, running, lunging activities or even at rest. Symptoms can vary from dull and achy to more severe and debilitating in nature. In severe gluteus complete tears, the hip can be extremely weak causing patients to lose balance and hip strength. Standing only on the affected leg can be very difficult, if not impossible, in complete tears of one or both tendons.
How can a Gluteus Tendon Tear be Diagnosed?
A gluteus tendon tear is best diagnosed with an MRI scan dedicated only to the affected hip. A stronger 1.5 or 3.0 Tesla magnet strength MRI machine can help to differentiate lower grade gluteus tendonitis from a partial tear or complete tear. The scan can also help determine if the tear is amenable to a repair. A massive or chronically retracted tear with significant muscle atrophy may preclude the ability to perform a successful repair. An orthopedic surgeon may also utilize an ultrasound scan in the office to rule out a gluteus tendon tear. To help differentiate a non-painful gluteus tendonitis or tear from a truly painful tendon tear, your orthopedic surgeon may perform a diagnostic lidocaine injection to the area to temporarily improve the pain at the hip and establish the correct diagnosis.
How to Treat Gluteus Tendon Tears Without Surgery?
A tear of the gluteus tendon may be treated with conservative options that may not require surgery. A course of physical therapy and home exercise program may help strengthen the surrounding hip muscles and reduce pain. An ultrasound guided cortisone injection can be performed in the office into the gluteus tendon region to reduce pain. A platelet rich plasma (PRP) or stem cell injection may also be performed under ultrasound guidance into a partial tear or tendonitis to stimulate the healing process.
How can a Gluteus Tendon Tear be Repaired?
Your surgeon may determine if surgery is appropriate. For those who have failed conservative treatments and remain symptomatic, the gluteus medius and minimus tendons can be surgically repaired to restore function and treat the pain. The repair can be arthroscopically repaired similar to shoulder rotator cuff tears using a small camera and instruments through small portal incision sites around the hip. This can drastically minimize the surgical recovery time and pain. Arthroscopic surgery in many cases may also provide for a better visualization and repair of the tear than open techniques and can be useful to repair other hip pathologies that may be present such as cartilage injuries or femoroacetabulum impingement (FAI). Some tears that are large or chronic may require a traditional open surgical approach to repair or reconstruct. The tendons are surgically repaired using suture anchors placed into the greater trochanter bone. The sutures from the anchors are placed through the torn tendon end and then tied to reattach the tendon back to their anatomic insertion.
Can a Massive or Chronically Retracted Gluteus Tendon be Reconstructed?
The gluteus tendon or tendons can be reconstructed, using autograft iliotibial band or allograft tissue, in cases of large gluteus tendon tears or in cases when the gluteus tendons cannot be directly repaired back to bone due to a long-standing retracted tear. This may be performed using arthroscopic or open techniques.
To see if you are a candidate for a gluteus tendon repair, Request an Appointment Online or call 305-520-5625.